happy wednesday! so happy that the week is halfway done; it's all downhill from here. and as per usual, every couple weeks i find i have a ridiculous amount of food photos on my phone and finally upload them so that i can share some recent eats with ya'll. so here we go!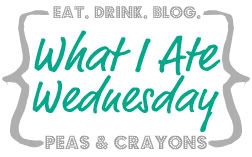 big salad with all the veggies, feta, kale vinagrette, and a few crackers (and a spinach leaf saying hello!)
morning snackage
breakfast cookie topped with greek yogurt, frozen raspberries, and honey
first time at lemonade! got the truffle mac n cheese (i died. best mac n cheese i've ever had!), a mushroom & farro salad, and a edamame & snap pea salad. and a blood orange lemonade because how can you go to a restaurant named lemonade without ordering some?
still addicted to these babies.
chipotle! brown rice, pinto beans, chicken, pico, corn salsa, little bit o cheese, and a massive amount of guac & lettuce. this bowl was so big- the lady seriously put like 3 huge scoops of rice in it- that i actually had leftovers for lunch the next day!
TJ's sprouted cinnamon raisin bagel with Nuttzo and coconut butter
typical quick breakfast of scrambled eggs, potatoes, and bacon. if i'm in a rush in the morning the fastest breakfast is always at the closest dining hall, which means lots of eggs + potatoes. usually i'll have some cantaloupe and coffee on the side too.
strawberries and the sweetest pineapple & a big salad with all the veggies, a little cheese, and kale vinagrette
friday night five guys burger. this was the mini size and it was like the size of a normal burger. i can't imagine how huge their 'regular' sized burger is!
best snack ever: tj's unsweetened dried mango!
part of a recent breakfast: southwestern eggs benedict
today's breakfast: omelet with mushrooms, tomatoes, spinach, bacon, & feta // potatoes // oj
shrimp taco tuesday!
recent breakfast of oats cooked in almond milk, nuttzo + cookie butter, and frozen raspberries.
the usual salad monster, strawberries, and a quinoa, bean, & avocado wrap
square bar study snack. never had this bar before, my mom sent it in a care package and i loved it!
and i am currently drowning the sorrows of my physics midterm that i just took with this iced coffee. brain. hurts.
happy hump day! 
best thing you've eaten today/this week? 
five guys or in-n-out?